Travelling to a new place and starting out your studies can be a whole new experience. This guide is for students coming from different parts of the world to study at Swansea University. I'm writing this from my own experiences at Swansea City and the Swansea University.
Swansea city
Swansea feels quiet and nothing much happens here most of the time. There are parts of the city that are beautiful and if you are an outdoor person you'll love exploring the beaches and mountains. There are a lot of places to hike and a lot of nature to take in.
The city isn't that big. You can drive around most of the city in less than a day. The city centre is quite small but gets busy during the weekends.
Swansea feels like a city that's frozen in time. You can see a lot of old shops here, some closed down businesses and some new ones popping up here and there. There are some good pubs and restaurants to hang out with friends and family.
Wind street is a popular place to hangout. It has some cool pubs and restaurants to check out. I'm not a huge party person, so I'm linking an article that you can read to find out more about wind street in Swansea.
How to get from London airport to Swansea
The affordable way to get to Swansea is by bus (coaches). I arrived at Heathrow airport when I first came to London. There is a bus station outside the airport where you can find buses and coaches to different places. You can book your ticket early online or get one at a kiosk at the bus station (this might be slightly more expensive).
There are two coaches that I know of that operate buses everyday from London to Swansea. They are National Express Coach and Mega Bus. You can click on the links to purchase tickets which will cost you around £10 – £20 depending on how early you book. Check the luggage restrictions when booking, if you have a lot of bags, you might need to pay extra. It could take around 5 – 6 hrs to get to Swansea by bus.
Another option is to travel by train, although I haven't tried it yet. This is a bit faster than by bus. It could take around 3.5 hrs by train. You can look for tickets online.
A bit more expensive option is to hire a cab/taxi at airport. It might cost you around £300 – £400. If you are travelling with a group of friends and have a lot of luggage, then you can hire a big cab and split the fare among your friends.
📌 Important - No Uber/Lyft in Swansea

If you are coming by bus (coach) or train, you'll likely arrive at the Swansea Bus Station or Train station (if you are coming by train). To get to your accommodation or temporary place of stay, you can take a local cab/taxi outside the bus/train station. You'll likely need to pay with cash, some cabs do accept cards but it varies. It cost me £5 for 0.8 miles from bus station to my accommodation.

There are no popular ride hailing services like Uber/Lyft in Swansea. There is a local ride hailing service called Yellow Cabs, but it doesn't work all that well. You can call the number on their website to book a cab. If you don't have much luggage with you and you arrive during the day, you can take a local/city bus as well (i.e. if you are not tired). 
First things to do
Get a sim card. Once you reach UK, your home network will likely stop working. There are sim card machines (sort of like vending machines) at the airport. I recommend getting '3 mobile' sim cards. If I'm not wrong you should get at least some data and calling minutes when you purchase the sim card, but please check regarding this when purchasing.
If you forget to buy a sim card, don't worry, you can get sim cards almost at every convenience store in UK. And you don't need to show any ID or anything like that. If you want to get a free sim card, there is a way to order one once you reach Swansea (I mentioned more about this in Essentials to buy section below).
Collect your BRP (British Residence Permit) card and student ID at the university. Complete whatever preliminary checks you need to complete.
Once you get your student ID, you'll be able to select your modules for the course you are doing. You'll also be given access to student learning platform, Canvas and Swansea University student portal, My Uni Hub. You'll be able to manage everything related to your studies using these tools.
Register with a general practitioner (GP). Every student coming to Swansea pays for the health insurance during the visa process. To fully avail the health insurance provided to you, you need to register with a GP in your area once you get your BRP card.
What kind of food can you get in Swansea?
You can get almost all kinds of food in Swansea. Chinese, Thai, Japanese, Indian and English food. However, the food might not taste the same as you might have had in your home country.
The Indian food in Swansea has a different taste and style. It tastes sweet and most of the Indian food available is North Indian. There is one restaurant (Banana Leaf) that serves some South Indian food but that restaurant is actually a Sri Lankan restaurant. The food tastes good though.
There are a lot of food ordering apps that you can use to order food when you first arrive to Swansea. Uber Eats, Deliveroo, Just Eat, these are a few food ordering services available in Swansea.
Food at Swansea University 🥪
The food at the university is a bit limited in terms of variety. There are very few options and even those are not that great. It's a bit expensive too. There are only 1 or 2 Indian dishes, maybe 1 Chinese and 1 Japanese. Most of the other dishes available are Middle Eastern and English.
Most of the students grab a meal deal at Tesco (in Bay Campus) which consists of a drink of your choice, a sandwich or a wrap, and some chips or chocolate.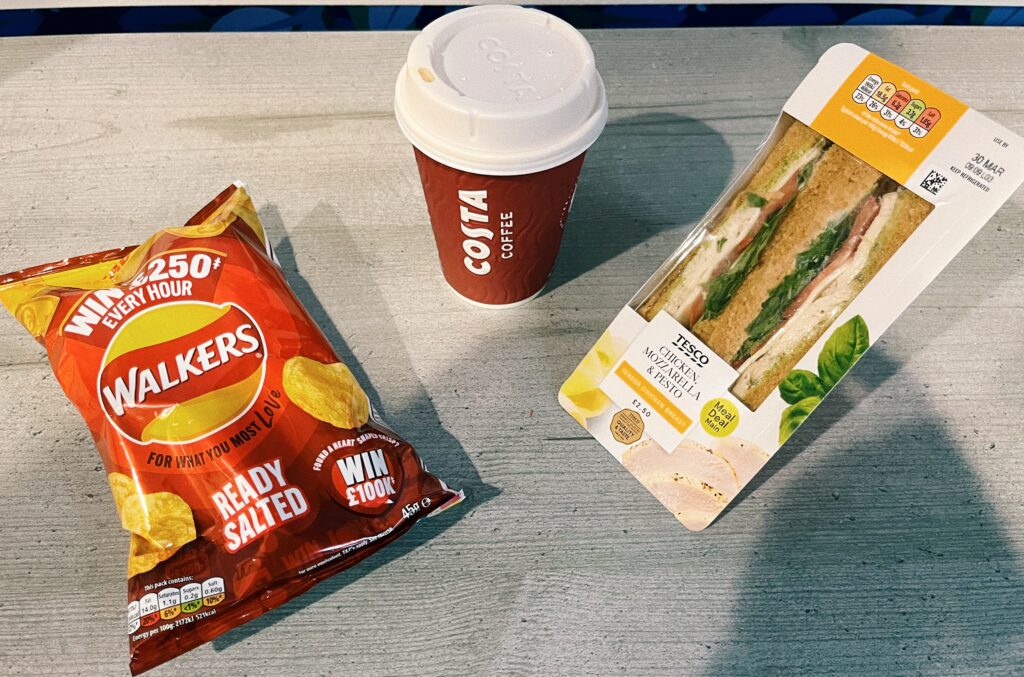 How is the weather like in Swansea?
Weather in Swansea is unpredictable. It rains at least twice every week. The winds can get as strong as 40km per hour and can push you away while walking if not careful. It almost never snows in winter, except for the one time it did, but the snow evaporated in a few hours.
If you are coming from a place of warm weather, it'll take some time to get used to the weather conditions in Swansea.
Overall, it's windy most of the time and feels cold to walk outside even if there's sun. You might need to wear a jacket all the time and in winter, you'll need a heavy jacket to withstand negative temperatures.
Get a good pair of all weather shoes, gloves and a good jacket. A beanie is recommended as well. If you want to purchase winter wear after coming to Swansea, you can get some affordable gear at Primark or other shops at Quadrant shopping mall in Swansea.
University life at Swansea University
The university life is good. Both Singleton and Bay Campus have good infrastructure and facilities available for students to study and hangout.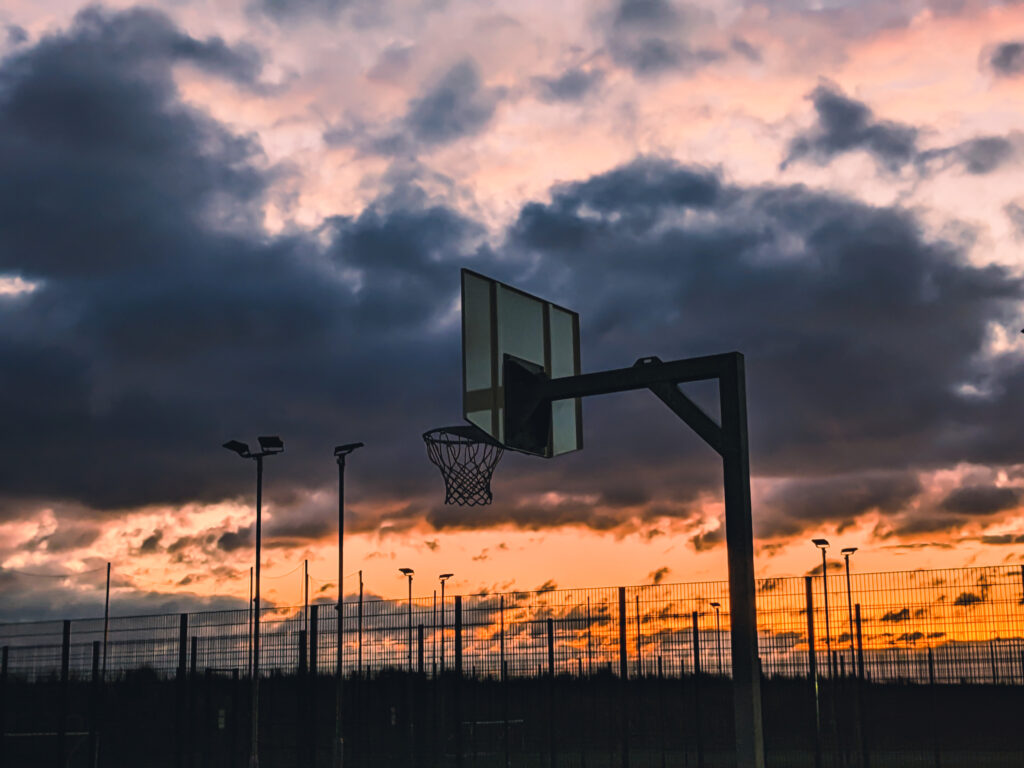 Some pictures I captured at the Swansea University.
I study at the Bay Campus so I can't say much about the Singleton Campus, but I haven't heard any bad things about it.
The Singleton Campus is a bit older compared to Bay Campus but it's a bit nearer to city and so a bit more convenient to get to. Bay Campus is located a bit far from the city, almost in the outskirts. So it feels a bit disconnected.
It'll take about 40min to walk from City Centre to Bay Campus. Singleton Campus is located around 20 min walk from the City Centre.
Most of the Computer Science, Maths and Management classes take place in Bay Campus. Medicine, Law, Psychology and a few other classes take place in Singleton Campus. This is not definitive information, so please check the official course page (for example like this) for clear information.
Both campuses look clean and are well maintained. Singleton campus feels and looks more greener with trees and old buildings. Bay campus looks modern and there is a beach just beside the campus. There is no shortage of stunning views on both campuses. If you are a smoker, there are smoking corners located at different spots on the campus.
University timings 🕰️
Working time: 9AM to 6PM, Mon to Fri (This is the time period during which all the classes are scheduled)
Opening time: 8AM TO 8PM, Mon to Fri (This is the time period during which all the blocks in the university are open and accessible)
Library is open 24/7 on both campuses. Except during Christmas and New Years, you can access library all day at any time.
How often you'll have classes in a week depends on the course you are doing but most likely you'll have classes at least 4 days a week or evenly spread out across 5 days a week.
Buses in Swansea
There are specific buses (Unibus) available for university students at regular intervals that go from one campus to another and other various parts of the city. These buses can be used by the general public as well. There are buses available from the bus station as well to go to university but these buses don't go inside the university.
Something you need to know about how to get on a bus in UK at a bus stop: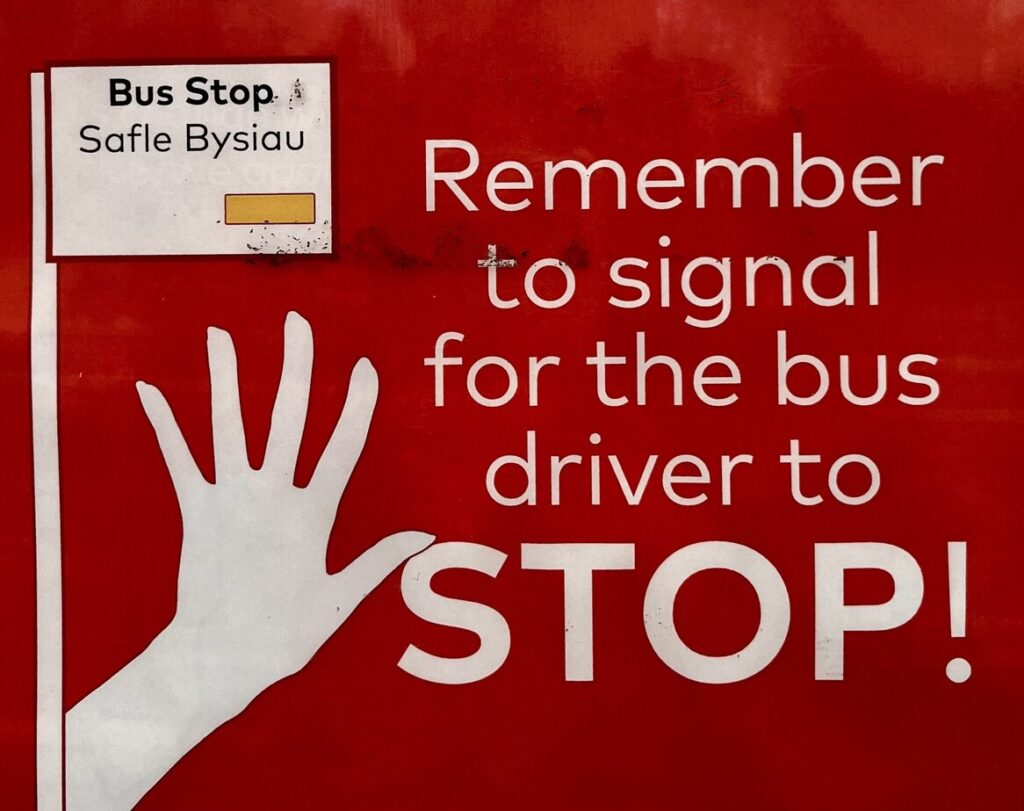 You can pay for the bus using cash or using card by asking the driver for exact fare when you get on the bus. There is an app available that you can download and purchase tickets directly. Students get a discounted price on tickets. You can also purchase weekly, term and yearly passes that can reduce the overall per ticket price a bit more. If you are between 16 – 21 years old, you can buy something called a 'my travel pass' that will get you more discount on tickets.
🔗 Link to download app – First Bus App
University buses are with numbers – 8, 8A, 9, 10, 10A, 4. I could be missing a few others, please check at the university once you reach here. Each bus takes a different route. Also, the buses could change in the coming (Sep 2023) semester.
Buses are available at 15 min intervals from Bay Campus to Singleton Campus Mon to Fri between 8 to 6 during term time. Bus timings and buses itself differ during weekends and during summer break. The best way to know which buses are available is through the app.
Even though the frequency of the buses is high, buses don't always come on time and they get busy during peak times. It's recommened to start your commute at least an hour before your classes start.
Learning experience at Swansea University
To give you some context, I'm doing my Masters in Advanced Computer Science at Swansea University. I'm currently in my second semester.
Teaching and study support for the most part are good at the university. Except for one lecturer, all the others were good in my First Semester and all the lecturers are good in my Second Semester. By good I mean, their teaching is good and they provide support as best as they can. If you want to get one on one support, you can always email the lecturer and meet him/her during the contact hours.
The teaching experience in lectures is fine. Different lecturers have different accents and sometimes it can be hard to understand what they are saying. All the lectures are recorded and are available to view on the learning platform provided to students. It's recommended to go through the lecture slides before you attend the lecture to be able to follow through the lecture a bit better.
The learning experience could be different for students doing different courses. For Computer Science however, each module (subject) has lectures, labs, courseworks and maybe an exam (entirely dependent on how the module is structured).
Strikes happen from time to time during which the lectures could be cancelled. They became more frequent in my second semester (Q1 2023). It is causing some concern regarding how the syllabus will be completed and I could feel some lectures are fast paced now to cover the missing classes. It is like this almost everywhere in UK. It might get better in future.
Accommodation in Swansea
There are several student accommodations available spread across the city. There are also student halls and accommodation available on campus. These accommodations are usually expensive though.
Student houses are much more affordable and generally come with more conveniences depending on your priorities. For example, some student houses provide washing machines and tumble dryers for everyone to use in the house. Some students book student houses as a group of 4 or 5 so that they can stay together. If you are applying to university along with friends, this could be an option you can explore.
Private student accommodations that are maintained by external companies provide facilities like a common area for students to hangout, spaces to study, more room choices, etc. I've heard that these accommodations are a bit better (and a bit cheaper) compared to the one's provided by the university. And there's more diversity. You can find all the information you need regarding accommodation online.
Some of the private accommodations in Swansea – Coppergate, Crown Place, Oldway, Seren, St Davids, etc.
The recommendation I give is, choose somewhere close to the university so that the commute time is shorter when you need to quickly get there. Also while choosing accommodation, remember that company owned private accommodations require you to pay in instalments or in full. It's different for each one. There might also be a guarantor requirement (someone to guarantee your contract) for some accommodations.
📌 Important - Regarding contract time or period 

If you are joining uni for September intake, this info is for you. For September intake masters students, the first semester is between Oct - Jan and second semester is between March - June. You'll be doing your project in the summer semester. Unless your project supervisor explicitly requires you to come to university for meetings, you don't need to come to uni again till the graduation ceremony. 

Some students that I know of leave Swansea once the exams are done in July and go to other cities looking for Jobs. So keep that in mind when signing the contract for accommodation. If you don't need to be in Swansea after your exams, then maybe you can look for other place in other city or even stay here and then extend the contract. It's better to keep your options open rather than get locked in. 
Check everything carefully before signing the contract. Here is a list of things to take note of:
How is the payment made? (Full/Instalments/Monthly)
How far is it from the university?
How high is it located? (Some student houses are located up hill which could be hard to climb every day)
What facilities are available? (Some private accommodations might not provide washing machines, so you might have to pay extra for laundry)
Are the bills included?
How is the WiFi connection? (Some students houses and private accommodations have terrible WiFi, check regarding this specifically when you are speaking to the agent/owner)
Essentials to buy/get
Sim card 📱
From the networks I used, EE gets the best coverage in Swansea. But keep in mind, no mobile network works properly inside the lecture halls at university. There is WiFi all over the campus though. You can get a free EE sim card by using this deal from Save The Student. Once you get the Sim card, you can top-up using a credit card or debit card.
Toilet paper 🧻
This is awkward but essential. When you first reach here, you might need toilet paper, so bring a roll or two with you.
A thick blanket 🛌
There is nothing more comfortable than a warm and cushy blanket. A thick blanket is essential to live in Swansea.
All weather shoes 🥾
As I mentioned above, weather is quite unpredictable in Swansea. You need some shoes that can sustain you in all conditions. Invest in some good shoes.
Heavy jacket 🧥
Winters could get absolutely cold and freezing. A heavy jacket is highly recommended to survive the weather.
Get a bank account 🏦
There are many banks you can get an account from in Swansea. Some banks might require a letter from the university to let you open an account. I used Lloyds bank to open my account and I did everything just using their mobile app. You upload your documents and your card, and account details will be delivered to your house. Another good option is Monzo, a mobile only bank account you can apply for by downloading the app. I found this to be better as I can see my daily usage clearly and I'm using it frequently now.
Tesco club card 💳
Tesco is a super market chain spread all over UK. They offer a points based card called Club Card. This is not a promotion or anything for Tesco. The club card is free of charge, you can apply for it by downloading the Tesco app. You'll get discounts on meal deals, and a lot of groceries and every day essentials at Tesco. It's almost an essential thing to have for all students to save a few quid every time you shop at Tesco, which you'll be doing quite often once you get here.
Space heater ♨️
Winters can get really cold in Swansea. With the ongoing energy crisis in UK, some landlords at student houses are limiting the time heating is switched on to a few hours. You might have heating available all the time during winter months but during other days it could be entirely dependent on how your landlord chooses to control it. I found that a small space heater is better to quickly get some heat and get comfortable. You can keep it beside your bed and switch it on once you wake up in the morning. Remember to switch it off when you are leaving the house though, you can't trust these devices to always function properly.
Safety in Swansea
Walking around the city during day time generally feels safe. I never walked out during the night and I recommend not doing that unless you are with a group of friends. I haven't heard of any robberies or attempts like that from any students I know of, but I don't know for sure.
I've heard about scam calls though. Scammers calling pretending to be someone else and asking to transfer money. If you get calls from an unknown number / unknown person, don't ever share your personal details and if they ask for any sort of money transfer, just hang up.
Always carry your phone with you when you are going out and if at all you face any safety concers, there are people you can talk to at the university regarding this.
Part time jobs in Swansea
Jobs are a bit hard to find at Swansea. It could take a couple of months. Most of the part time jobs available are at restaurants, convenience stores or working in warehouses at Amazon, etc. Some jobs might require you to have a drivers license and your own vehicle.
Few students that I know of found an actual part time job here. Even if you find a job, the daily commute could be struggling. Mornings and nights are cold. Buses are not available at all times. These reasons might sound discouraging but I'm just trying to give you a realistic idea of the experience here.
Some people get a bicycle to commute to work & university, and some only work during the weekends or off days. If you find a job and if you can manage your time well and find a way to commute better, you might be able to pull it off.
A few other things to take note of
Get yourself familiar with the trash schedule. If you are living in a shared house, you need to know when to take out trash and how to organise it. Ask one of your housemates to explain the details to you. You can also look on this website – Swansea Recycling & Rubbish Collection for trash collection schedule.
SaveTheStudent – Check out this website (SaveTheStudent) for tips on everything related to student life in UK. You can read budgeting tips, easy to make recipes, discounts and deals on various items, etc.
UNiDAYS – If you want to purchase any tech (Laptops, iPads, etc.) or looking for student discounts on travel, food & fashion, you can signup for UNiDAYS with your Swansea university email to avail these discounts. You'll get around 10% off on MacBooks and upto 20% off on select Dell and other brand devices.
---
If you need to reach out to me ask more questions, you can send me a DM on twitter – https://twitter.com/sd4483
---
Some pictures I captured in Swansea city